June, I mean July, wow…get it together Carolyn was a fail reading month in terms of number of books (5). Quantity wise..meh..it could be better but I did enjoy most of the books I read. I know July has also been a whack blogging month with me not posting as consistently as I usually do but I'll explain more in my July Favorites. Onto the books!
The first book I read was actually a reread:
Legend by Marie Lu
I loved it the first time around, hated it the second time. What happened? I explain all of my thoughts and feelings in my discussion post here.
---
On the other side of the spectrum, I read Sunstone Vol. 1 by Stjepan Sejic (Graphic novel)
The red on the cover really, really makes it seem like some really, really intense erotica, with lots of really kinky sex scenes but it's definitely a lot more lighthearted than it would seem. It is a romantic comedy following two women who are into BDSM (one's a dominant, the other a submissive) who meet over the internet and they hit it off and start a relationship. Contrary to what popular books might have us believe *stares pointedly at 50 Shades of Grey* it is possible to portray a healthy BDSM relationship in a book. What a concept. And really, it made the desire to be in a BDSM relationship and all its quirks seem utterly understandable from a non BDSM perspective. The interaction between our main characters is sweet and almost cheesy. And I really like that the steamy scenes are very integral to our character's development which makes it more sensual rather than just being there for the sake of being a hot scene. I adore the art too. It's very muted in some areas but deep and vibrant in others but all with some kind of red in them.
---
And then on the other side of the spectrum once again, I read a literary theory book called
Reading Like a Writer by Francine Prose.
This book is about exactly what the title says. Prose dissects famous sentences and pieces of dialogue and points of view, as well as explain to us why details and character gestures and paragraph structure is so important. When do I break a paragraph? How much detail is needed? Which POV do I use? It sounds like some grammar lover's heaven but it actually was really informative and you can tell that Prose has a deep passion for reading and writing (how fitting considering her name). We love our stories but we often underestimate how much word choice actually matters to telling that story. Whether to use a comma or semicolon etc. matters. It just gave me such a deep appreciation for the little things that writers have to think about while writing a book or anything really. I do think that the examples she gives us sometimes feel too long; she'll give us some text from a classic or modern classic and then analyzes that section but the analysis would be so much shorter than the actual text she gave and I feel like she does contradict herself sometimes. She also does have a habit of sounding subtly pretentious when she writes about what constitutes "good" writing which I didn't find bothersome at all (maybe because I'm low key pretentious about writing) but it might bother others.
---
And the last full book I completed was Lair of Dreams by Libba Bray, my favorite book of the month. It is absolutely amazing. I highly recommend this series. I did write a full review here.
---
DNF- Nuts by Alice Clayton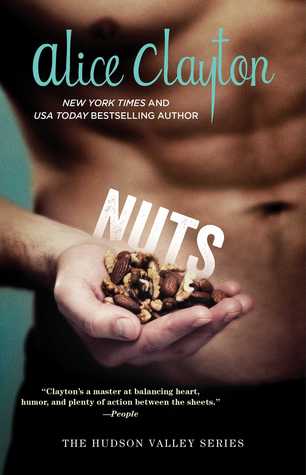 In my neverending quest for a stellar romance novel, I decided to give Nuts by Alice Clayton after hearing so many good things about it. It's an interesting concept for a romance novel, I'll give you that because the love interest is a farmer. Nope, not the usual fantasy like firefighter or pliceman or doctor or mafia boss or motorcycle rider but a farmer? Sure why not. Our main character, Roxie, is a chef in LA and her mother has just got an offer to go on the TV show, The Amazing Race. She pleads with Roxie to return and manage the restaurant while she's away even though Roxie does not want to go back to her hometown (this reminds me so much of Sweet Home Alabama). But she reluctantly agrees and there, she sparks a relationship with local farmer, Leo. I'm sad to say that this romance novel really did not cut it for me (I DNFed it at 25%ish). First of all, Roxie is your stereotypical "I-don't-do-relationships" type of person which is getting to be one of THE MOST annoying romance tropes of all time. Oh you're such a special snowflake, you don't do relationships, where have I heard that before?? Oh yeah, in every other fucking romance novel. Girl, we know you do do relationships because we all know by the end of the book you're gonna be that sexy hunk you met on page 10. Second of all, you don't write believable sexual tension by saying "The tension was so thick.." Just because you write that will not make me believe it so the romance was pretty much subpar.
I'm basically not having any luck with romance this year so I'm bringing out the big guns in August and I'm going to read It Ends With Us by Colleen Hoover. I thought her last book and most people's favorite CoHo book, Maybe Someday was just ok but I've heard people say this one is the best CoHo book and it's unlike anything she's ever written. We'll see about that.
---
Anyways, as for what I'm currently reading, I'm reading A History of Seven Killings by Marlon James still. I'm really liking it. It's just dense. I'm also more than halfway through Harry Potter and the Cursed Child and haha, oh man, do I have things to say about this script. Be prepared for much ranting in my next post. And finally, I'm just starting to read Vengeance Road by Erin Bowman which I'm liking it so far although I am only on page like 10 so take that with a grain of salt.
How was your July reading? Any new favorites? Disappointments? Have you read any of these books before? If so, let me know your thoughts. =)