Stranger Things season 2 was an inevitable thing considering the enormous popularity of the first season. As a whole, I think it succeeds but I have a few qualms. First of all, my feelings about the side characters are two fold. On the one hand, I struggle to see how they stand on their own throughout the season; I even question some of their significance such as Maxine's stepbrother who is a dick for basically no other reason than being a dick. With that said, however, some of the success of Stranger Things is the fact that it juggles so many characters but gives each one their moment in the spotlight. It takes a while for some of the characters to show their true deal and sometimes I feel the side characters are just used to create tension in the plot like Bob.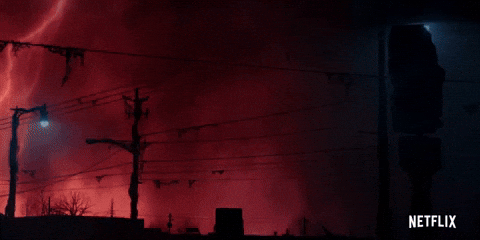 As conflicted as I feel about the side characters, I do like that the show continued to expand our core cast of characters with the exception of Will and Joyce. I wish Will hadn't spent the entire season unconscious or confused or seeing visions. I think there wasn't enough time for him to really develop as a character what with him being entirely missing in S1 and unconscious for much of S2. I also wish Joyce didn't spend all season screaming. However, I feel as though the dynamics of the group are ever evolving in a good way. They are each trying to find their own identity outside of the group and because of that they spend a significant amount of time away from each other. Dustin discovers a new creature that he wants to keep despite the group's skepticism. Mike is still trying to get Eleven back. Lucas is grappling with his feelings for Maxine. I'm very pleased with Eleven's story arc as well even though the storyline with finding her mom was a little tedious. She finally figures out what her powers mean to her and how she wants to use them.
I have to say I was so very happy about what happened between Nancy and Jonathan, my OTP of this show. I like that Nancy really got to shine on her own. It was somewhat marred by the fact that Steve did not get any closure from this but I'll take it and hope he gets some more development next season. And let me just say, I did not know I needed Steve as an unwilling babysitter till now. I completely love Steve as a character this season. He is an incredibly funny character and he plays it just right.
The cliffhanger was unsatisfying to me because I thought the entire season was about just this thing (that I won't spoil). The plot continued to be compelling and it definitely got pretty gruesome at parts for a family show but I'm all for it. But side note, what is up with all the cliche one-liners? B+
Lady Bird is only one of a slew of coming of age movies that I've had the pleasure to watch in the past couple of years. It's about a girl named Christine, or as she dubs herself, "Lady Bird", in her final year of high school. I have to say it's one of the most stylistically unique. It moves in vignettes and mere snapshots of Lady Bird's life with no sense of beginning, middle, or even end. It just feels like you're watching little video clips spliced together as she tries to figure out to get out of California and get into college to a school on the East Coast. She is misunderstood but that misunderstanding is as much a result of her own perception of herself as those of the perceived perceptions of her from the people around her such as her father, her brother, her friends, her love interests, and especially her mom. A hodgepodge of juxtapositions herself, she is romantic but crass, she is delusional but also very grounded in reality, she is an outcast but wants to fit in.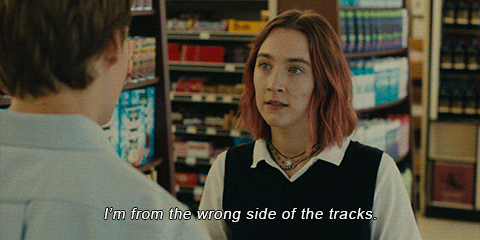 She has a frustrating relationship with her mom and I like that they spend an equal amount of time focusing on all her relationships, romantic, familial, and friends.
No scene really begins with a clear purpose; no scene ends with a clear resolution. It could just be a clip of her and her mom shopping at the mall and then cutting to a scene of her at school. It is beautifully acted, often feeling more improv than scripted which is only a testament to the natural dialogue. Everything feels just well balanced. A lovely coming of age movie. A
It is rare for me for me to have completed a kdrama and give it a B. Usually, I know it's a B from the first few episodes and just quit it. You can see from my previous reviews of Descendants of the Sun, Age of Youth, Signal, and Weightlifting Fairy Kim Bok Joo that I gave all of them A's and if I didn't, such as Tomorrow with You, I have already stopped watching by the 3rd episode. Despite the cons of the drama, I loved the poignancy of this drama and what it has to say about the institution of marriage. Ji Ho is a quiet, mousy 30 year old who wants to make it as a writer. She desperately needs a room while she is looking for jobs after quitting her first one as an assistant writer. She finds a room with Se Hee who just wants a roommate who will recycle and look after his cat and pay the rent so he can pay back his debts. They don't ask for much from life, just a place to stay, food, and the ability to watch soccer games in their spare time.
They fall in love, obviously, as one can only expect in a kdrama. This will not be the first time there is a marriage contract based korean drama nor will it be the last. It is, however, unique in many ways. Even though Ji Ho and Se Hee are the main characters, they are not exactly the type of main characters I usually gravitate towards and they are not charismatic enough to hold the storyline together. It's a good thing then that the show focuses also on Ji Ho's two best friends, Ho Rang and Soo Ji and interesting opposite studies on their own. Ho Rang goal in life is to get married, have kids, and be a good housewife. Soo Ji works at a big male-dominated company and dreams of becoming a CEO of her own company. The drama directly explores gender dynamics in a relationship such as proposals, sexual harassment in the workplace, and patriarchy in the family head on. The very subjects that Korean dramas never, ever, ever explore.
It's even better that the drama does not take any sides on these issues but instead portrays the characters to the best of its ability and allows viewers to make their own opinion. It does not take Ho Rang's side or Soo Ji's side or even Ji Ho's side although it could be said that it supports all these characters equally in their endeavors. On top of that, I will always support a drama that supports their female friendships. It asks us if she can live her life even if she doesn't become her life-long career of being a writer. It tell us how complicated but how simple it is to love someone. And most importantly, it asks these characters what it means to live a meaningful life to them.
The main reason for my B rating are the last few episodes. I think it's a shame that the previous explored these issues so deeply and carefully that the rushed last episodes felt like a bow slapped onto an almost finished present. I was especially dissatisfied with Ho Rang's ending. I think what hurt the drama was that the writers thought, as with all kdramas, that there had to be an HEA when it would have been perfectly fine and even more emotionally enriching to have a more ambiguous ending. However, its poignant moments and its thoughtful dialogue on what it means to live a meaningful life make this worth watching. B