This trilogy is such a delight, not least of which I can say it is a wonderful departure from other YA fantasy books in its characters and its writing. *Spoilers for all three books*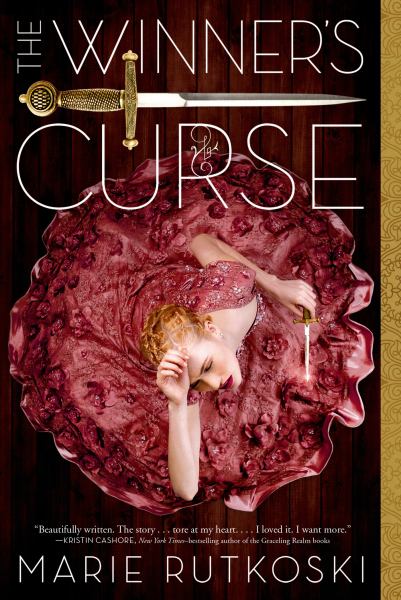 So when Book 1 starts off, we learn that the Valorians conquered Herran over 10 years ago and the Herrani have been slaves ever since. Enter our two main characters: Kestrel is a Valorian and Arin is a Herrani. Book 1 follows their initial meeting and what happens as the two worlds start to collide and Herran is on the brink of rebellion. In the first installment, they both stand high in their peoples' regard: Kestrel is a high general's daughter and she, as Valorian tradition dictates, is set to marry or join the army; Arin is a pivotal force in the Herrani rebellion. This romantic relationship starts off interestingly different from other YA novels–at a slave auction where Kestrel buys Arin. Off putting at best, problematic at worst. But, slowly, Rutkoski expertly asks us questions about the slavery of the oppressed, the oppression of culture when a people are conquered,  and the conquered's bleak past and future. Although I can say all I want about what Rutkoski knows about war and slavery so intimately, I cannot lie, my favorite part of these books is Kestrel and by extension the romance between Kestrel and Arin.
The Winner's Curse is when you come out on top of the bid, but only by paying a steep price.

-Marie Rutkoski
Rutkoski introduces the concept of the "Winner's Curse", essentially, did Kestrel lose more than she won when she bought Arin? And Rutkoski so expertly explores not just in the conventional way in terms of monetary loss. Under any normal circumstances and in a normal world they would have pursued a romance devoid of many problems but the relationship explores how because of this system of oppression, the unequal power dynamics, makes this relationship extremely difficult and uneasy from the start. The internal motives that may or may not be there: is Kestrel lying? Is this how she really feels, is Arin taking advantage of her for information? The first book follows how they develop feelings for each other despite their peoples' tenuous history. The best thing is that Rutkoski offers no easy solutions but that's what makes you root for them. Kestrel, as the general's daughter, is ever calculating and manipulative goes against her better judgement and duty to be honest with Arin. She will willingly go into a duel for him (one of my favorite parts of the novel) and seek out his honesty. They try to hard to be honest which is why the midwinter rebellion is such a heartbreak to read. Arin not telling her to drink the wine (ugh my heart). And even when Arin lets Kestrel go to the boats and tell the emperor about the rebellion.
I also love this world. The people are so distinct in their ways of life. The Valorians value war and honor and doing everything for your country. The Herrani admire the arts and the gods. It has influences from Greco-Roman culture and especially the Roman empire with its emphasis on war and a rigid system of honor. There are descriptions of architecture, art and frequent allusions to the Herrani religious system of gods. It makes the book more prevalent to our history.
Isn't that what stories do, make real things fake, and fake things real?
Rutkoski is a wonderful writer. It is immensely metaphorical and quiet and the imagery of the intangible is so precise. I love the way she portrays her characters. Kestrel is far from the stereotypical heroine I've come to expect from YA. I think her character especially shines in the second book.  She is not stubborn for the sake of being stubborn and consequently a "strong" female character. She also is not good at fighting and in fact does not want to go to war! Instead, she is good at war strategies and has immense cunning prowess, beating everyone at Bite and Sting. One of her fatal flaws is her dishonesty which I makes the miscommunication in this book all the more believable. She lies to herself about not wanting Arin, lies to the emperor and is a spy for the Herrani, lies to Arin about supporting Valoria and to everyone around her so much that she doesn't know who she is. She is torn between Valoria and Herran, to her father and to Arin. And what she didn't realize in the first book is that her first duty is to herself. I love her duty to her country but the fact that she comes into her own and figures out her own honor. I still get all the feels at the end of Book 2 when she tries to tell Arin the truth in the piano room but is brutally interrupted. Book 2 is my favorite because it shows Kestrel out of her element in the royal court where she may not come out on top. I've said it once before but the miscommunication in this one actually makes sense unlike the miscommunication of 90% of YA novels. And of course, once again, no easy decisions as demonstrated when Kestrel persuades the emperor to poison the grass so the people would starve and move away instead of burning the land where all the people would just die instead. I also really liked that Kestrel and Arin developed separately as the stakes with the emperor got higher and every character is cunning and has ulterior motives.
The plot is truly a weave of political intrigue which I absolutely love. Kestrel is smart but everyone is smart and I loved seeing her outplay and outmaneuver everyone, especially in the third book. The third book really explores her relationship with her father (who I personally hate). Kestrel really struggles with her father because he has done some  horrible things to her not least of which he sold her out to be sent to an internment camp where she was drugged and forced to work and lost her memory. But despite all that, she admits that she does still love him. Even as someone who would not understand, I do empathize with her especially when she recalls memories of him when she was a child teaching her strategy. Her father is a complex character in his own right as the emperor so willingly tells her during their last Bite and Sting game. He worshipped the emperor because he saw a kindred spirit in their strategizing, their brutality. I think Kestrel was someone he just did not understand and for him that understanding equated to love. The series ends with a very satisfying conclusion and those last few pages really show how Kestrel and Arin have come full circle.
Her next book which comes out in 2019 is set in the same world featuring cameos from the original trilogy and I'm so excited!! Bring it on.