I'm back?? I know I said I was back from hiatus and then I wasn't and then I went back on hiatus without warning. I haven't been reading enough to warrant a monthly wrap up anyways. I've also been opting for more shorter books/short stories/novellas these days. So in this post, I'm wrapping up all the books I read from May-August.
The Best We Could Do: An Illustrated Memoir by Thi Bui (4/5)
The Best We Could Do is a graphic memoir about immigration but less so about how it affects the generation after and more so on the history and culture around the parents that are the immigrants. As with most stories about immigrants, it is written from the perspective of a person (Thi) who has only been told these stories. But seeing it in a graphic novel really makes you feel like Thi Bui's parents are actually telling the story themselves because the pictures reflect the immediacy of the event being told. If it's a scene where the parents are trying to escape by boat, then the panels reflect that exact scene. It follows her parents from when they were kids all the way up to when they immigrated to the US. What I find interesting is how much of her parent's personalities really shine through and how that influences their triumphs and struggles, their shortcomings and successes. I wish there was more about their story affects Thi's life and her child but I liked how the memoir explores this sense of displacement that her parents faced, as a consequence of war and being forced to deal with traumatic events in the best way they knew how, even though it caused a sense of displacement for Thi herself. She was constantly wondering why her parents were not fully present for her.  Lush watercolor permeates the graphic novel with fluid lines and equally fluid pacing.
How to Break a Boy by Laurie Devore (3/5)
This reminded me a lot of Gossip Girl and I think for what I was looking in a YA contemporary, it had a little too much drama. I think I was expecting more of a cute and fluffy read. Usually with these books I expect the writing to just be a means of catapulting the plot and moving overwrought drama forward, to get from Point A to Point B, but clearly Devore's writing is beautiful unto itself. It's got a superb sense of melancholy and beauty that I never expected with this type of story and let me just say the romance was beautifully done. I appreciated the unapologetic unlikeability of the protagonist. She is not the wholesome, pure, dependable heroine you expect from a contemporary and it made her character development all the more interesting. It was not tied up neatly but still has this strong sense of purpose that not many YA books have. Even though the plot was too dramatic for my personal preference, I'm definitely checking out her next book.
We Were Feminists Once: From Riot Grrrl to Covergirl, the buying and selling of a political movement by Andi Zeisler (4/5)
There seems to be a trend nowadays that everyone can claim to be a feminist. Thanks to the support of many celebrities, the word has become "hot" and "trendy". If you buy this makeup product, you can be a feminist too! Though
often the true meaning of feminism has become muddled and used instead for capitalist gain. This book uses an abundance of cultural and pop references as well as a plethora of historical arguments to convincingly support this argument. The most important thing I learned from reading this is the concept of choice feminism. Choice feminism looks appealing on the surface. Anyone can choose to be a feminist! But the concept is insidious and inherently selfish. If an ideal does not fit the person's individual ideology, the person rejects it. Where choice feminism fails is truly changing the ingrained sexism of society. A female can choose to become president or a housewife and both could be considered feminist depending on who you ask so it's a win-win situation right? A female can choose to wear makeup or not and both would be feminist. That is choice feminism. What choice feminism ignores, however, is the ingrained cultural ideals that forced this choice in the first place. Sure, a woman is at perfect liberty to become president instead of a housewife and that would be considered feminist but that ignores the cultural and historical context that makes it so difficult for a woman to become president. I found this book to be incredibly relevant to today's cultural atmosphere and was incredibly eye-opening book that focused on some of the more obscure but no less insidious aspects of today's "feminism".
I then read a couple of other YA contemporary books that I have mini reviews on: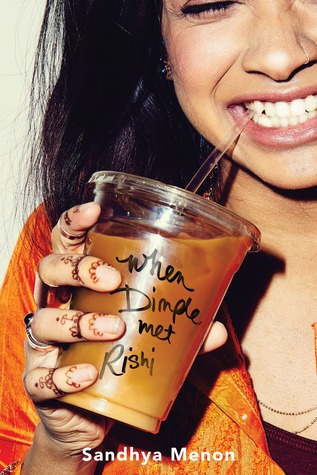 The Butcher's Hook by Janet Ellis (2/5)
Set in Georgian society, The Butcher's Hook follows a young girl, Anne Jacob, who is set into an arranged marriage. As with a lot of heroines in historical fiction, she of course does not like this arrangement and gets involved with the butcher's boy. I expected a dark historical fiction novel about discovering subconscious desires and giving in to them in a time when so many restrictions are placed on your desires. What I got instead was a slow book where you know exactly what is going to happen but the book drags on and on and when you finally reach the part you already predicted, you've lost interest in the book. It just does not live up to anything. The main character had a lot of promise at the beginning but quickly derailed to standard cliche stereotypes.
I then read some nominations for this year's Nebula award in the short story category.
Seasons of Glass and Iron by Amal El-Mohtar (3/5)
Written like a fairytale, this story's worldbuilding is one of its strongest elements with tidbits of magic and mysterious happenings. I could not fully immerse myself in it because as you progress through the story, the feminist themes become more and more overt to the point where the fairy tale elements seem more like an accessory than integral to the story. It is about forgiving yourself and moving forward but mostly it praises the power of female friendship. You can read it here.
Welcome to the Medical Clinic at the Interplanetary Relay Station | Hours Since the Last Patient Death: 0 by Caroline M. Yoachim (4/5)
This short story was such a nostalgic surprise. It follows in the format of the Choose Your Own Adventures. It is both a homage and a satire of those books. What I also liked about it was that it was set in space and it reminds me a lot of the humor from The Hitchiker's Guide to the Galaxy but more accessible. You can read it here.
I then read some graphic novels although two of which I've only read the first issue.
Misfit city Issue 1 by Kirsten Smith, Illustrated by: Kurt Lustgarten, Naomi Franquiz (3/5)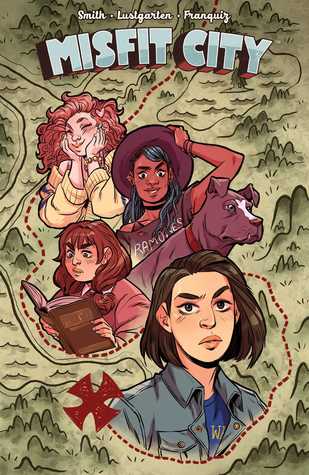 This was heavily influenced by the movie, The Goonies except it features an all-girls cast. It also reminded me a lot of the show Gravity Falls with its off the wall sense of adventure and Steven Universe for its sense of diversity. I admit this first issue is mostly filler as we learn more about the girls themselves and the town that they reside in. The mystery itself isn't revealed until the end as a cliffhanger. An eccentric and fun read nonetheless. I recommend this if you liked Lumberjanes but want a little more edginess to the art and plot.
Goldie Vance Issue 1 by Hope Larson (3/5)
This reminded me very much of a Cartoon Network show written for kids and will mostly be enjoyed by kids. It's a cute and offbeat story about a girl who solves mysteries in the hotel run by her dad. Clearly the mysteries aren't going to have you on the edge of your seat but the colors are vibrant and it's fast-paced so it's a good palette cleanser.
March vol. 2 by John Lewis, Andrew Aydin, Illustrated by Nate Powell (4.5/5)
I continue to completely and utterly love this series. The second volume continues the story of John Lewis and his role in the Civil Rights movement of the 1960's. It is clear that what makes this so completely genuine is the strife even within the black community as to how to attain their freedom. It is also so awe inspiring how truly nonviolent this movement and I think because of this, you feel every inch of humiliation and oppression in contrast to the nonviolence. But along with the lowest of lows, you feel a sense of hope that only people who are tired of being oppressed for so long can feel. Even when I knew the outcome, I often felt a sense of hopelessness and disbelief that this point in our history occurred with so readiness and even worse how it continues to manifest even today.
Kindred Spirits by Rainbow Rowell (Short story)
Kindred Spirits is a short story about a girl who waits in line for the midnight premiere of The Force Awakens. It was so wonderful not only because it featured a Vietnamese main character (yes!) but because its deceivingly simple premise gives way to a surprisingly cute and satisfying story. The characters are eccentric and have just enough of a story so you don't wonder why the hell you've been reading a pointless story about someone just waiting in line for a movie, because of course, as only fandom people will know waiting in line for a movie is not just about waiting in line for a movie is it? I extra recommend this short story for fans of Star Wars as well because there's a plethora of Star War references.
Every Heart a Doorway by Seanan Mcguire (Novella)
What happens to the children of Narnia, of Wonderland, of magical worlds after they come back to reality? This novella seeks to answer that question and it's very reminiscent of Mrs. Peregrine's Home for Peculiar Children as it takes place at a house with eccentric children and an eccentric keeper of the house. Really my only qualm with it is how short is, I wanted so much more from it. The characters, especially the twins, have so much potential left and the worlds that they left are even more fascinating. I want to hear more about the Underworld. It is also a part murder mystery although the mystery was unsatisfying because it was solved so quickly but overall still an enjoyable read if only to see how this premise unfolds.
What To Say Next by Julie Buxbaum (3.5/5)
This is a sweet YA contemporary revolving around grief. Kit Lowell's father suddenly died after a car accident, she finds difficulty in moving forward. She resolves to find out how her father truly died with the help of a classmate, David Drucker. Julie Buxbaum is a great contemporary writer. She writes about grief as if she's deeply intimate with it. I also loved that she explored this concept of discovering that your parents are no infallible and I think her portrayal of Kit having to deal with that newly discovered concept was very well-handled. I loved how she explored the many different forms of Kit's grief. The anger and denial but also the difficulty of trying to do mundane things in the face of a sudden emptiness in your life.