In the continuation of favorite things of 2019, we are moving right along to TV! I have 4 amazing new TV shows to me that I loved in 2019. I will link summaries
1.Sex Education
Asa Butterfield is like the next Michael Cera. He can play the awkward teenager really damn well. I'm not complaining though, he plays the character very charmingly. This show is everything to me. It is funny but more than that, it is daring. It shows sex as it is in real life, and topics around sex such as masturbating, your first time, painful sex, even a sensitive episode centered abortions (so well done), foreplay, oral sex. Honestly this show is better than sex manuals and the sex ed I got in high school. Why? Because it shows that being a teenager is not just black and white, not just about whether you've had sex or not. It's about everything in between. But aside from its honest depictions about sex, the show portrays some interesting relationships and friendships especially between main character Otis and his mother (who seems to know a little too much about his life), his best friend Eric (who struggles with how to express himself), and Maeve. Another thing that's great about this show is that every dramatic thing happens for a reason rather than just to spur the plot along. It's a gem of a show and I'm so excited for Season 2 coming in just a few weeks!
2. Schitt's Creek
When I first started watching Schitt's Creek, I was just looking for another comedy to watch but what I got was so much more. Essentially, it's about a rich family that loses all their money and has to move to a small quirky town that they bought originally. It is a sitcom that plays a lot with self awareness. For example, there's a sign near the entrance of the town: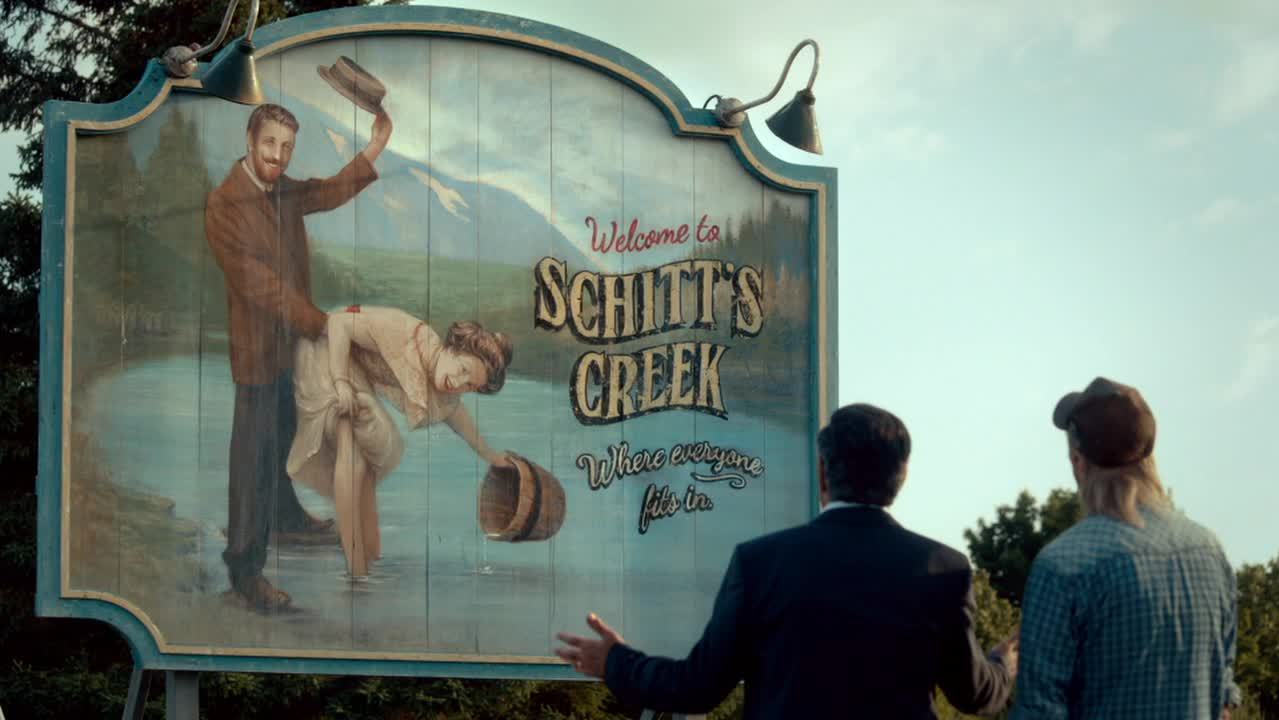 The mayor of the town is unaware of the blatant sexual innuendo even though we and Johnny Rose do. I really love the clever play on humor but it always grounds itself in its very soft heart. You grow to love this family spoiled and obnoxious as they are as they learn to become the same but slightly better people. The 7th and final season is coming out in a few days! I'll be so sad to see this end.
3. Billy on the Street
I have never taken quite so much to a reality game show as I did Billy on the Street. I thought it would be a cute show I dipped in and out of but nope, I binged watched all 5 seasons within about 2 weeks. It had me laughing out loud and smiling and wishing I was as brave as Billy.  I just love how he sticks so much to his character no matter how often he might be tempted to break it. I love the segment, "For a Dollar" especially since you get some funny answers. I also just love pop culture so there's that. Also Billy and Elaina forever.
4. Unbelievable
This miniseries is about a series of rapes by the same perpetrator that are investigated by 2 cops. You follow two storylines, one of the cops solving the case and the other of one of  the victims, Marie Adler. It is based on a true story, the original source was from a 2015 Pulitzer Prize news article, "An Unbelievable Story of Rape". The title of this show says a lot of things are unbelievable. The fact that such atrocious rapes even happen. The upending of a victim's life. How apathetic the system is towards rape victims. But maybe what's most unbelievable is the fact that Marie, condemned for lying for having the courage to speak about the truth is then dismissed by an investigator and left to deal with the traumatic emotional repercussions.  Although the show's plot is mainly focused on mechanism on figuring out who the rapist is, the show's emotional core is conveyed through Marie. It is heartbreaking how seeing her gradually suffer more and her emotional scarring slowly bleeds into her real life in insidious ways. The show also has a lot to say about the difficulties female cops experience on the job. I did really like how even though one of the cops did have kids, her main struggle was not whether or not to stay home with the kids as so many shows do to make some struggle for female cops. It's a heartbreaking show, one that will make you question humanity but restore it again for you.