Yes, I know it's already almost the end of March as I'm writing this, but it's hard to compile a month into one post. February was such a pleasant gift compared to January. First of all, it was Asian New Year's on the 16th and I remember writing about new year's last year and feeling very hopeless but this year I felt slightly more optimistic and it felt nice to be optimistic. According to the signs, it will either be a very good year or a very bad year for any year of the dogs, which just sounds very foreboding. It is fruitless to watch out of signs telling me it is either, but it sometimes feels I should be looking for them.
February was particularly special to me because I celebrated my first Valentine's Day ever in my 23 years of life. It was a definite change from the days of treating Valentine's Day just like any other day and simultaneously yearning for someone while still appreciating my singledom but also wondering when the hecking heck someone would like me but also not caring because I had other priorities to fulfill but also wanting to do cute things with someone I loved but also realistically knowing dating with my less than ideal home situation and not being able to express myself creatively made it oh so hard but also wanting to laugh about inside jokes that only we would get but also wondering if I was even interesting enough to get a date with anyone. I was definitely not conflicted about this as you can see. But I'm here now and I had a really nice dinner at a Brazilian BBQ place with my boyfriend. This day is only as good as the person you spend it with and if that is truly the case, then I had an amazing time.
Mighty Jack by Ben Hatke, Alex Campbell, Hilary Sycamore
Mighty Jack is a middle grade graphic novel following Jack who finds a bean and grows it and watches as the garden in front of his house turns into a mysterious garden with plants that have superpowers. Although the art for the plants was vibrant and explosive, it was the only interesting thing about this story. The characters were cardboard cutouts. Jack is the underdog that needs to get his act together to save everyone he loves, the girl next door is the token strong girl, and Jack's sister really reads like a plot device so Jack can step it up. I really wish the characters were drawn better, then I would have enjoyed this world a heck of a lot more. 2/5
Nimona by Noelle Stevenson
I finally read Nimona!!!! And it's overhyped!!! At the time, I thought it was charming and now I've practically forgotten everything about it. I did really like the concept though, of an evil endearing girl becoming a sidekick to a villain. But then I stepped back thinking the story sounded familiar and it was: it is basically a Tumblr fanfic about a villain who is actually in love with the superhero. It sounds almost exactly like a Thor and Loki fanfic vibe. 3/5
The Nowhere Girls by Amy Reed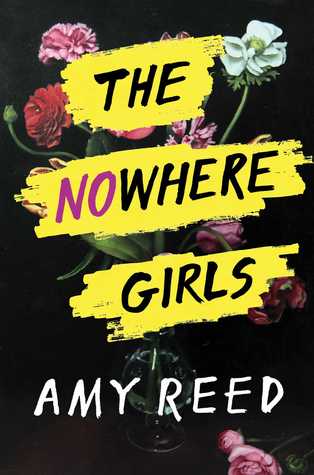 I've been expanding the number of YA books that I've read that talks about rape and rape culture. Although I admire that there is more of these books being put out, there are definitely some that do it better than others. This is definitely not one of them. I'm getting a little tired of YA books that always cover rape culture in a small town as if only small town people are capable of small minded thinking. I'm also getting really tired of the method of feminism that says the solution to confront the patriarchy is to take down some sexist boys (usually, for some reason, football players). It makes for some feel good victory and the book even addresses that! It says "even if we win this battle, [we have other ones to fight]". Feminism is a line of thinking, not a battle form. I also did not like the idea of the "benevolent" victim whose voice got to be heard but not the supposed "slut". Where was her story, her voice? I did like that there were conversations about female masturbation and pleasure. The conversations felt pretty natural. Overall, an important topic understated with cliches. 3/5
Adulthood is a Myth & Big, Mushy, Happy Lump by Sarah Anderson 
I really liked the sequel because it was so relatable to a particular type of introvert. However, the second was more of a rehash of the first except in the sequel, there were author's notes alongside the cartoons which were a little unnecessary to me. The sequel just felt a little too relatable which I don't even know is a concept but it feels like a concept appropriate for these books. It's got a cutesy, special snowflake vibe that grated on me after a while but nevertheless some of that were hilarious and because I am THAT introvert, I found it very relatable which I suppose is the point anyways. 3/5
All the Single Ladies: Unmarried Women and the Rise of an Independent Nation by Rebecca Traister
I have a full review here.
March Vol. 3 by John Lewis, Nate Powell, and Andrew Aydin
My second favorite read of the month. There is something so incredible special about this series, in fact the third installment cementing it as one of my fa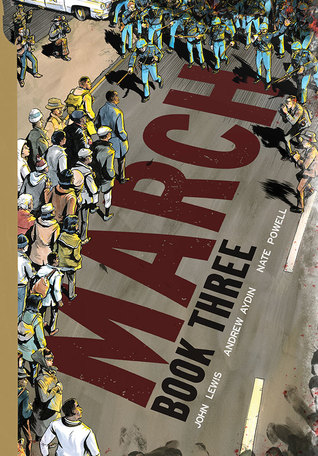 vorite graphic novel series of all time. I like the different perspective on the civil rights movement. Most civil rights movement books that I read about center on the benevolence of these people, how a few protests helped cure centuries worth of racism and bigotry. I love the look that we get into how the movement's morale changed during these years. It ebbed and almost lost momentum during the worst times. I learned that progress is sometimes even about finding the right political support even as they are only moderate about your statements or finding the right opportunities to strike when the violent sheriff is out of town. I think it's so powerful how he juxtaposes these violent acts of so much hatred with the supposed fairness of American law, the law that every person in America has the right to vote.
Seventeen – "Thanks"
Every so often as you know, I go into one of my kpop kicks. I am completely obsessed with this song and its choreography. I seriously watched the live version more than 10x in a row. The vocals are so strong. Everything about this is so catchy and explosive, but expertly restrained. I also completely adore the music video. It's a lot darker and moody than the usual kpop video. It's so interesting; normally American men would not be caught dead in a music video doing their own makeup., but it's normal here. Yet this embrace of femininity still does nothing for society's patriarchal nature.
Ikon – "Love scenario"
Apparently, they got inspiration for this song after watching La La Land and I thought it fit perfectly for the movie. It's such a cozy, feel good song.
Red Velvet – "Bad Boy"
I think you can see the trend with these songs. They are upbeat and cheerful, but they have a go get em attitude that I really love. Again, I love the music video. The outfits are so sexy 90's and I need all those black outfits in my wardrobe, all those black boots! Fishnet stockings! Crop tops!
A$AP Rocky – "LPFJ2"
Wanna know how I find out about rap songs. I listen to other people listen to them and then I memorize the lyrics and search it up on google.
NCT – "Baby Don't Stop"
I have to like at least one NCT song in their comebacks.
Black Mirror Season 4
Oh black mirror, what has happened to you? Out of 6 episodes, I only really liked 2 of them, but only one was truly standout though it was nowhere near the level of the best episodes from Seasons 1 and 2. I'm disappointed in it. Although Black Mirror is about exploring how technology negatively affects us, even lethally, it never failed to explore the emotional depths that technology was suppose to alleviate, resolve, or amplify. These technological advances are only spurred from human desires. The show is opting for shock value and exploring technology that is more extraneous than plausible which is frustrating. I'll continue to watch anything Black Mirror puts out, but I have to admit I am now wary of the quality.
Big Little Lies
I completely adored Big Little Lies. I will have a full review coming up for this coming up (hopefully) soon.
Growstone – mobile game
Growstone is a mobile RPG game where you basically collect stones and become as strong as possible. I was skeptical at first because the coding and artwork is just not my cup of tea. It's very old school 90's. But as I kept playing, I really started liking it and the artwork just became endearing. It's a nice game to play as you wait for something or just pure escapism. You can also automatically play it and leave it to play itself while you do something else.
Tabletop with Wil Wheaton – Youtube series
Tabletop with Wil Wheaton is a series where WIll Wheaton and other guest stars play tabletop or board games. Aside from introducing me to sooo many board games that I would like to play in the future (including that I bought: Avalon Resistancew, a bluffing game.), they also provide such hilarious entertainment at the same time. All the stars have such great chemistry together and they are just unabashed nerds who are not afraid to roleplay. I've watched gameplay for Munchkins, Forbidden Island, Go sushi, and many, many more. Guest stars include Felicia Day, John Scalzi, Ashley Clements and many more!