It's been a minute since I've done one of these but I told myself I would restart this year so here I am. As a side effect of only posting 2x a month now, I'm compiling all the books, movies, TV shows, and music in one big monthly wrap up rather than separating my favorites apart from the book wrap up. I am convinced that January is just not my month. It's like the Monday of the year. I anticipate a change because it's the beginning of the year but usually everything stays completely the same. Consequently, I think it's the month I feel the most restless. It's the month when the holiday cheer is gone and over, set in by a gloominess and overcast, everyone is suddenly back to business. If January was about anything, working those hours, I realized what was and is truly important to my time. I started doing this project called the one second a day for the rest of the year. The idea behind it is that you take a video of your life everyday and compile one second of each to put into a video compilation at the end of the year. I've modified it so that it's one picture a day. This year is more of a test year than anything because I'm not used to taking pictures frequently but nevertheless, I have taken on this endeavor. However I realized that during the middle of January, that each day was a blur of work and I just did not have a picture that highlighted my day.
Sadly, a symptom of being a fully fledged working person is that while you realize you have more responsibilities, you also realize you have to fight for what is truly important to you and how to distribute that time. I have a habit of "sucking it up" or adapting rather than changing. It's the way I taught myself to do things but I realize that sucking it up doesn't change anything and it just makes you more miserable. You have no sense of whether something is truly working out for you or not. If it is not working, it doesn't mean that I should keep doing it. Life is too short to just endure.
The Empathy Exams by Leslie Jamison (3.5/5)
The Empathy Exams is an interesting concept of a book. It deals entirely with our ability to empathize and the nuanced ways in which we do so. One essay explores the irony of going on a tour to learn about poverty, another follows empathy through her experiences as a medical actor and how we must have common ground before we are able to empathize with someone, and another essay defends the concept of being too sentimental. As with any essay collection, there were definitely ones that had excellent premises but that I wished she had analyzed more of what she observed from it. But the very best stories are so worth the more mediocre ones because they are so in tune to how we perceive empathy in our daily lives.
The Cruel Prince by Holly Black (4/5)
I actually don't think I've been this enamored by a YA fantasy since The Winner's Kiss.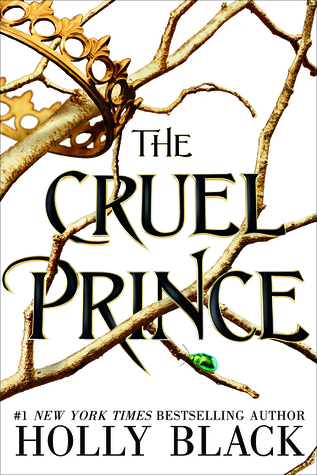 The only thing I wish it had more of is Marie Rutkoski's ephemeral writing. Holly Black's writing cuts like a bland knife. It cuts, and does the job, even fairly well, but it just lacks a certain sharpness not to mention she uses the cliche that every YA writer uses and overly emphasizes a feeling. But what makes this different from other YA fantasies is that every single character has an immediate stake but also an underlying stake throughout the book that is not immediately apparent when they are introduced. Our main character is utterly fascinating. Jude is someone who has grown up with fire. She hates these fairies who have tormented her and who have ultimate power over her, but at the same time, this is the place she calls her home and the place that has nurtured the brutal, caustic person she has become.  Of course, I also cannot forget the slow burn romance that I fervently hope will develop more in the second book. I don't think I've shipped two characters this much since Arin and Kestrel. I cannot, cannot, wait for the next book.
Meet Cute by various YA authors (3.5/5)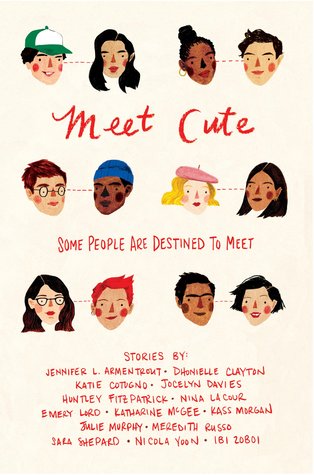 I have to say that this is probably the strongest short story collection I've read in terms of how many of the stories I liked. Even if the execution was not up to par, the premises provided such a fascinating take that I had a lot of fun reading it anyways. It was such a lighthearted and happy collection and only proves why I could like YA contemporary. It brought such a smile to my face.  My favorites were "Oomph" by Emery Lord, a story that follows two girls at the airport and "Print Shop" by Nina La Cour, Nina La Cour really knows how to write a dreamy, vintage California setting. Honorable mentions have to go to Nicola Yoon's, "The Department of Dead Love" which follows social workers who help you after a break up, Dhonielle Clayton's, "The Way We Love Here", where you know who your true love is beforehand, Jocelyn Davies's, "The Unlikely Likelihood of Falling in Love", which follows a girl's statistics of meeting this boy on the train everyday, Julie Murphy's "Something Real", which follows two girls on the set of a reality show, and even Jennifer L. Armentrout's, "The Dictionary of You and Me" which follows a librarian and her repeated calls to the owner of an overdue book. All are squirmingly cute. I want a full book on some of these.
What do you think the difference between wanting to be friends and wanting to be more than friends is?

Some people you want to get to know and some people you want to know you. I think that's the difference.
My Happy Family | B+
My Happy Family is a quiet movie about a woman who leaves her family and buys an apartment to live alone. It's one of those movies where nothing much actually happens, and yet you have this rich sense of the main character's inner life. When she first presents this idea of living on her own after living with her extended family including her mother, father, husband and children, her entire life. Her family cannot fathom why she would want to do this; they immediately ask if her husband has abused her in any way, wondering what she could be unhappy about. I love the way this movie explores a person, especially a woman, finding her own space, literally and figuratively. It explores the importance of finding your identity separate from your family, and how it is difficult for a woman to do so as they are expected to sacrifice for family often at the expense of their own health. This movie is set in Georgia (European Georgia) and I did watch the dubbed version, it did take me out at first because I'm so used to finding a subtitled version but I got used to it.
It | B
I'm not really sure how to feel about this movie. On the one hand, found family especially between kids is one of my favorite things ever and this movie delivers that. It's a fun (and scary) romp to defeat this evil clown (who is btw terrifying). It delivers a scary story that only Stephen King can write where the scary entity is just an extension of the real things to fear: abusive parents, mean bullies, and growing up. And yet, on the other hand, I just think this '80s nostalgia has gotten old. Maybe it's just me, but I just cannot deal without another disproportionate all white male kid gang and that 1 manic pixie dream girl. Maybe I'm not as attached to the '80s because I was obviously not born during this time but the oftentimes racist and sexist undertones is just not nostalgic for me. This was definitely a movie adapted from a book that was definitely written in the '80s which is different from, say Stranger Things, that has a love for the '80s but feels less stranded in its time.
Father is Strange | finished 8 episodes 
Father is Strange is the perfect example of why cliches can work if they are well
executed. I've rolled my eyes a lot at the traditional family dramas that have pervaded TV and you know, this drama's story doesn't deter from those familiar plot points: missing dad, shrewish mother- –in-law, miscommunication, an unexpected pregnancy subplot, no nonsense grandma, poor vs rich class conflict, and of course, some good ol' fashioned romance. These plot points, however, are done with a subtlety and are better appreciated with distinct characters and strong acting. It also has a progressiveness that has been missing from many traditional dramas that helps it feel fresh and modern while keeping the nostalgia of a family drama. I have since stopped this drama because, however much I enjoy it, the storylines move at a snail's pace, and I would appreciate this more when I do not have other, faster shows to occupy my time.
The End of the Fucking World | Finished 2 episodes
I think I would have liked this show 2 years ago, even a year ago, but the fact of the matter is, I just have less tolerance now for shows with apologetically shitty characters. There are always exceptions but I just do not think I'm in the mood to watch shitty, pretentious teenagers at the moment. Don't let my review deter you from watching it though, objectively, the acting and editing are on point.
Alias Grace | Finished 4 episodes
Another stopped show. I liked it fine, but it just needed more space to explore its concepts. I love the set design and the cinematography but the story is lacking. I should just finish the last two episodes but honestly I've got other shows to watch.
Feminist Frequency
As I get more and more into the podcast world, this continues to be one of my favorite podcasts. This features 3 women, including Anita Sarkessian who produced the video games vs tropes series on YouTube. The podcast discusses the latest media including movies, TV shows, games, and the news and looks at them through a feminist lens. I really love the discussion these ladies have together. I also get some great recommendations from them.
Illenium – Beautiful Creatures (feat. MAX)
I'm actually really enjoying all of Illenium's music, but this one I've been listening to the most. My perfect kind of EDM.
If love is a lie, then why do we need it?
We swear we're alive, but we're falling to pieces
Clash Royale
Yes, I had been playing this a lot in January and it made me realize how much I actually like playing games if only I can really apply my analytical and strategical skills. The only bad part is that I get really competitive and angry when I lose.
February is already shaping up to a great month, and I hope that bodes well for the rest of the year. As always, let me know if you have enjoyed any of these and if you have any recommendations for me based on these. =)