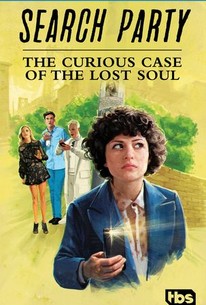 Title: Search Party (Seasons 1-2)
Genre: Comedy, Mystery
Episodes: 20
Created by: Sarah-violet Bliss, Charles Rogers, Michael Showalter
Starring: Alia Shawkat, John Early, John Reynolds, Meredith Hagner, Brandon Michael Hall
Rating: A-
A lot of articles have described Search Party as the millennial Nancy Drew and that was pretty much all I needed to hear to start this oddball of a show.
Search Party is the type of dark absurdist comedy that I normally don't get. The absurd is usually too absurd and the comedy too black for me to really enjoy. But Search Party, Search Party is something special and likewise wholly original from what I normally watch. It features Dory Sief, who at the beginning of the show, sees a missing person flyer of Chantal Witherbottom who went to college with her. Dory has only bumped into her once when she dropped her teddy bear while moving into college. But somehow Dory becomes obsessed with finding her believing Chantal to hold a greater purpose in life for her than running mindless errands for a rich, lonely housewife and coming back home to a loveless relationship with her boyfriend, Drew Gardner. She sets out to find Chantal, stringing along Drew, and her friends Elliot Goss, cliche in his flamboyance and Portia Davenport, ditzy and a little naive.
Search Party is a satire of millennials, of self-obsession, and of the social media that perpetuates this self-obsession. These themes are hidden underneath characters who seem harmless at first but as they are pushed to their limits, (especially in season 2 where they have to keep up with the repercussions of their actions in Season 1), they slowly show their true layers underneath. Although Drew is passive, in Season 2, we see him do whatever it takes to get the job he desires dragging down anyone and everyone he can; he reveals himself to be just as cunning and clever as the other characters. We cheer and clap when these characters are given their due but we also feel a little guiltily sympathetic. Although we know that Dory has an ulterior motive to finding Chantal Witherbottom whom she believes is in danger, we at first think it is either amusing or slightly absurd but we go along with it because what's the harm? We laugh at the dry humor and the character's harmless attempts at trying to find Chantal but it quickly devolves into something more sinister.
Our four main characters are incredibly unlikeable. They are entitled, selfish, and unapologetic and unaware of both.  When Dory announces Chantal's death to her group of friends, Elliot immediately dismisses it but then pulls out his phone to tweet about his sorrow at her disappearance. It is a testament to this show that the moment is disturbing but also incredibly funny and oddly enough, relatable.
The show never demands us to like them as so many shows with despicable characters do.  But instead the show lays the onion on the table, and slowly peels back the layers one by one until the core character is revealed. You don't have to sympathize with them and yet they are so oddly relatable without someone demanding that they be relatable to us. In fact, tragic backstories are never revealed so there's not an automatic stake for sympathy. Their few moments of vulnerability are less touching than desperate and frustrating. The ending of Season 1 was incredibly satisfying, surprising, and most importantly, original from so many murder mystery plot twists.
Even though this show is definitely a character study, the mystery is just as compelling and gripping especially in Season 2. In both seasons, the progression of the mystery serves to amplify who the characters already are. What will happen if desperate Dory does not find the answer she is looking for in finding Chantal? What will happen when the carpet of privilege and wealth is swept under Elliot Goss's feet? I think Season 2 is actually better than Season 1 because the stakes are higher. Plot twist after plot twist is revealed. The characters do crazier things because the stakes are higher but their actions are so true to their characters. What's also compelling is that the side characters including Julian, Dory's ex-boyfriend who is very blunt, Chantal, ditzy and spoiled, and most notably, Dory's and Drew's next door neighbor, April who i certifiably crazy and unpredictable. It is great that they become so fleshed out as they inadvertently become more and more embroiled in Dory's affairs.
Search Party does not fit the mold of the usual TV show I watch but it is incredibly brilliant in its portrayal of its characters combined with a sharp script and breakneck pacing, it is something I'm wholly glad I gave a chance.