The way things are going I don't think I'm going to make my Goodreads challenge which is actually sort of a foreign concept to me. I've read 48 books so far this year and am 10 books behind schedule if I want to reach my goal of 70 for 2017. It's fine with me since I got to do a lot of rereading these past two months.
Harry Potter and the Prisoner of Azkaban by JK Rowling
POA is that turning point in young Harry's life when he is starting to grow up and realizing more about the circumstances of his birth and seeing that people are not always what they seem. I think that is one of the sure signs of growing up when you start to see the gray areas in morality. HP 3 is not my favorite book but I do think it has the best mystery to it. I still think the mystery and machinations surrounding Sirius Black were so well thought out. I'm not surprised JK Rowling went on to write crime novels because her mysteries are excellent. And to me, they are excellent because she creates the rules within this magical world and then uses those careful rules she created and breaks them in clever and unexpected ways. This is definitely the middle book between the lightness f the last two books and the dark. And side note, who doesn't love the Marauder's Map and the Time Turner?
Solanin by Asano Inio
Solanin is a millennial's book. It is about a girl named Meiko who
works a desk job and lives with her depressed boyfriend, Naruo who writes the sports column for a newspaper. One day she quits her desk job spending the next year figuring out what she really wants to do. Now this book is one long homage to existential crisis that every 20 some year old experiences. The quotes are melancholy with a slight tinge of the dramatic, it feels more like melting pot of poignant and Tumblr-y ideas than a story about characters. It feels like a pointless ramble rather than a quiet coming of age story. I never got to know the secondary characters well enough for me to truly understand them as anything other than props for the main characters and the main characters I didn't know well enough to really attach to.
The Gentleman's Guide to Vice and Virtue by Mackenzie Lee
I've found myself more and more critical of the YA category and nothing in this category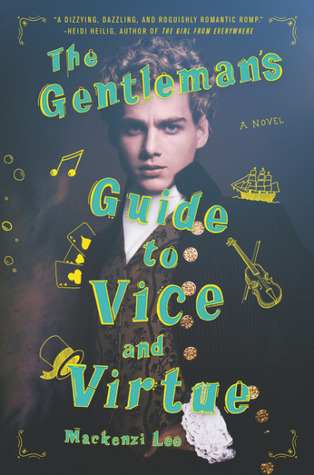 really feels satisfying these days, although maybe I should give these books more than a couple of pages.  But I really enjoyed the Gentleman's Guide to Vice and Virtue almost from the get go and it succeeds by finding the perfect tone of a historical comedy. The tone imbues our hedonistic and crass main character, Henry Montague, and the secondary foils that accompany him on his journey. It is so fun but Lee doesn't just skim over the historical context. The thing I admire the most about a book is its dedication to consistent characters. I love Henry's relationship with Percy, and the flashbacks to their past were some of the most heartwarming moments. Henry struggles to find who he is and face the demons of inadequacy he has always ran away from. He is on a whirlwind tour of Europe but he realizes when he comes home he must face his future of running the estate and figuring out how he's going to manage his father's expectations when they might be the opposite of what he wants. I also really liked Felicity's character. Her sensibility and practicality were the perfect foils to Percy and Henry (although it seems like sensible and practical are practically the staples of too many female characters these days). I really appreciated the diverse range of social commentary Lee inputted in this. She gave these issues of racism, sexism, and disability their due with grace and subtle nuance. The plot is a whirlwind of 18th century European history and antique sites, debauchery, and hijinks.
Harry Potter and the Order of the Phoenix by JK Rowling
I've sincerely forgotten how depressing this book is and slightly repetitive. I felt it sort of lagged somewhere in the middle. It's interesting to see how much sketchiness is allowed
to happen at Hogwarts which I suppose is part of its charm. Also, rereading this as 23 year old, I have to laugh at how much more I understand the dynamics of Harry and Cho's first date at Hogsmeade. The things Harry does is kind of cringeworthy. It's so great. I will forever and always love the Room of Requirement and the DA. I think I liked the concept of resistance and taking action in the face of Umbridge and a tumultuous political environment. It's interesting how well it holds up with time. The ending of this book always makes me shed some tears. I think it's the fact that I see Dumbledore, this previously infallible person, actually being vulnerable because of his capacity to love. This trait establishes itself as his biggest strength but also his biggest weakness. I also found it quite funny what characters the Defense Against the Dark Arts teachers are with really the only relatively normal one being Lupin. But the other ones are kind of wack jobs and it's so interesting how even if they are kind of unrealistic, they are so completely relatable as extensions of people you might now.
Harry Potter and the Half Blood Prince by JK Rowling
If there is one flaw these books have, in my opinion, it is the romances. They have never
and will never make sense to me. I've never shipped Ron and Hermione nor Harry and Ginny. I have, however, developed a sudden liking towards Hermione and Draco, a paring that actually sounds so perfect now that I think about it. It includes two of my favorite romantic tropes: opposites attract and hate to love. But whatever, my favorite part of HBP is learning about Voldemort's past and this clever concept of Horcruxes. Voldemort definitely has an old school villain feel to him. I feel if he were a character written in the present, people would criticize his character for being too unambiguous and being evil for the sake of being evil but it's a universal story simply because of this tale of good vs evil so it doesn't bother me. I feel that if someone made Horcruxes irl though, he/she would be very difficult to defeat just based on this sheer amount of objects you can use. Ron is a little insufferable in this one and again, the amount of times that Harry is accidentally right is kind of astounding. The ending was very disheartening when I first read it and still is esp when you realize that this book has descended right into the darkness.
Harry Potter and the Deathly Hallows by JK Rowling
Every time I reread HP 7, I gain more and more appreciation for it. When I first read it, I
was kind of frustrated with how much Dumbledore was in it. And I thought there would be something more to it but I've grown to really like the insight into Dumbledore's past. It casts a lot of doubt into Harry's blind following of Dumbledore and makes this idea of finding Horcruxes a seemingly impossible quest. Why didn't Dumbledore tell him more about the Horcruxes? Who even was he? But if we don't listen to Dumbledore, how do we defeat Voldemort? It must have been hard to write a satisfying ending to one of the greatest book series of all time and even harder to write an ending that feels satisfying after we've spend so long trying to figure out how to defeat the greatest dark wizard of all time. Needless to say though, I was satisfied and am still satisfied at the way things turned out. It felt epic and final without feeling convenient or rushed. I have mixed feelings about the epilogue though.
Level Up by Gene Luen Yang
Level Up is a graphic memoir about a guy who loves to play games and throughout the memoir battles whether to assuage his father's wishes or follow his own dreams. This is a very standard follow your parents' expectations for you or follow your own goals and it neither offers a poignant resolution nor a different take on the subject. It was, therefore, ultimately forgettable. I can't really even recommend it to gamers because the references are barely there.
Moxie by Jennifer Mathieu
I've noticed with the concept of feminism in YA and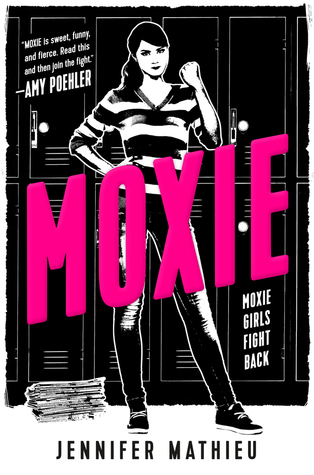 mainstream media, feminism is a game of "catch the bad guy and everyone lives happily ever after". In Moxie, Vivian is sick of her small town school's sexist codes and the sexist football players and the sexist principal. While it is admirable and inspirational that she start taking action to end the ingrained sexism in her school I found that that the feminism ended up being more of the feel good type as the girls got the football players and the principal evicted from the school. And while it does not ignore the blood, sweat, and tears that go into protesting and trying to change people's perspectives, the book ignores the fact that these tools are not just to evict sexist pigs and have a feel good victory. The problem with this is that it puts the sole blame of societal sexism on a few bad apples while ignoring the injustice of the system that created these bad apples and many more to come. It's about making lasting changes. What would have been more effective in my opinion is making changes to the school's dress code or having these people change their minds about feminism. The romance was so cheesy and sort of sickeningly sweet and eye roll worthy really. This is a nice introduction for younger readers about modern sexist microaggressions but for veterans I suggest a hard pass.
The Language of Thorns by Leigh Bardugo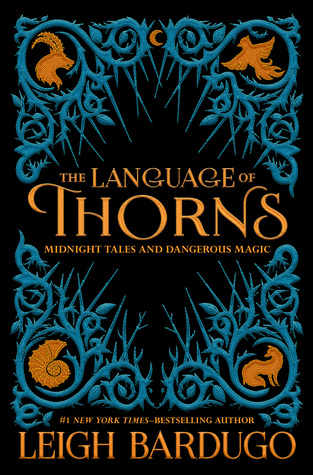 Oh man, Leigh Bardugo continues to impress me more and more since her lackluster Shadow of Bone trilogy. You don't have to read the Shadow and Bone trilogy to fully enjoy this one but I think you just might miss a few Easter eggs. Essentially, The Language of Thorns is a collection of short fairy tales set in the Grisha world. Bardugo effortlessly subverts our perceptions of the way fairy tales are told to us and the stereotypes and trappings of the fairy tale canon. I really like the way she handles the retellings of the fairy tales in fresh but vivid ways. My favorite one is the first one which challenges the roles that princesses, kings, queens, and monsters are relegated to and upends them. The illustration alongside these are also beautiful so the hardcover would be so worth buying.
Goodbye, Vitamin by Rachel Khong
This is a quiet literary novel about a woman going back to live with her mom and dad. Her fiance has just left her and her dad has Alzheimer's. This is altogether about the absurdity of life. It is humorous in a dry but touching way. It follows a diary format as she comes to terms with how best to help her father. A lot is revealed about the secondary characters for such a short book like her father's infidelity, her mother's guilt, and her brother's unwillingness to give in. It's strikes more touching than anything illuminating about the Alzheimer's or the people with Alzheimer's. I felt it didn't go quite far enough with the portrayal of Alzheimers but it is a short, quick read for a lazy afternoon.
Harry Potter and the Chamber of Secrets by JK Rowling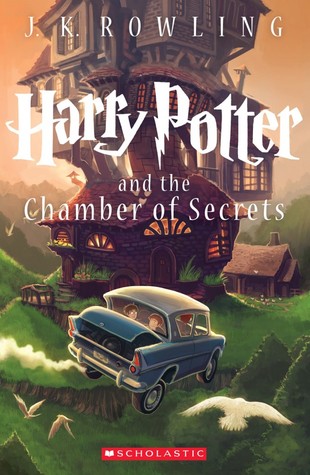 Reading the later books and then going back to earlier ones just amplifies the sense of innocence that pervaded the characters. Oh, the days when Malfoy being Slytherin's keeper was on the top of everyone's worry list. I particularly liked the whole section of the Polyjuice Potion. What troublemakers they were even in the second year and Gilderoy Lockhart is one of the funniest teachers Dumbledore has ever employed. I've also noticed in the later books, when Harry stays with the Weasleys, it gets more and more angsty and depressing compared to his stay here which was full of cute fun including gnome throwing and flying cars.
An American Sickness by Elisabeth Rosenthal
An American Sickness was such an eye opening book on the American healthcare system. Over the past few years, I've become extremely jaded about American healthcare and this book felt like justification. It covers topics such as why the pharmaceutical companies make so much money, medical billing, insurance companies, and the hidden fees in hospital billing. It's quite frustrating the way that making a profit is more desirable nowadays than actually taking care of people. It's even more sad when you realize how dysfunctional the system is. The book is incredibly digestable but is full of facts and statistics as well as heartbreaking anecdotes. I also like that it includes resources and ways that you can improve the healthcare system and hold it accountable for your health.
I believe my favorites of this batch were definitely The Language of Thorns and An American Sickness aside from my favorites of the Harry Potter series which should come to no one's surprise. I don't have any specific plans for the rest of the reading year and will read as it pertains to my mood.