So I've noticed I've been watching a lot more animation lately. Usually, animation is not something I normally gravitate towards especially animated TV and anime but there are always exceptions (See Voltron: Legendary Defender). I do tend to like animated movies more just because there are studios like Disney and Pixar that are always making really good content but even then I usually they don't have quite as much emotional impact on me as they seem to on other animated fans but again there are exceptions (See Zootopia). And the ones I've seen recently are as expected a hit or miss.
Tangled Before Ever After (TV Movie) & Tangled: The Series
Starring Mandy Moore, Zachary Levi|Disney Channel | Currently 4 episodes released
I'll admit I was pretty excited but also really hesitant about watching these two. I didn't know how well the 3D CGI would translate to 2D. The movie animation was absolutely stunning and I was worried the TV show would lose a lot of the feel of the original. But I was totally surprised. At first look, the 2D looks juvenile and a little sloppy but after watching it, it is absolutely stunning in its own way. The background and scenery are so bright and vivid but really detailed at the same time. They look like drawings in a picture book. It also helps that the voice actors for Eugene and Rapunzel are the same as in the movie and they do an equally good job in this one. The TV movie and TV series take place after the events of the 1st movie but before the Tangled short film where Eugene and Rapunzel get married. The first few episodes that have been released follow Rapunzel as she learns how to be a princess after being locked up in a tower. The relationship between Rapunzel and Eugene is just as cute and cheesy but there are worse things to show in a relationship than being cheesy. It is very healthy and respectful and I do like that they are getting separate storylines as they each figure what they want to be. There's also a new character that's introduced, Cassandra, who is Rapunzel's lady-in-waiting 
and she's awesome. She's fearless and adventurous and a great foil for Rapunzel. She has an interesting hate relationship with Eugene which is fun. The storylines aren't terribly original and I can forgive that because the show is very clearly targeted towards very young children (8-12) but they are refreshing in many ways and just solid storytelling. Fun and easily bingeable. I have a feeling shows based on popular Disney movies are going to continue being a thing in the upcoming years. I am particularly excited for the Big Hero 6 show coming out this Fall (again 2D) and the voice actors for most of the original cast will be the same which is exciting.
Trollhunters
Created by Guillermo Del Toro | Season 1: 26 episodes | DNFed: Episode 7 |Netflix
It's very clear to me from seeing Pacific Rim and now Trollhunters that Guillermo Del Toro has such an imaginative and epic visionary style but I wish he paid as much
attention to his stories. The world of the Trollhunters is riddled with interesting trolls and troll lore. The city that the Trolls reside in is beautifully animated (in the same CGI as Tangled) but as beautiful as the animation is, the story is lacking soooo much. It is overly cliche with by-the-book humor and one-note characters. It has the bare bones of an underdog-turned-hero story. Our hero, Jim Lake, is living in the suburbs with his doctor mom. He is kind of the outcast of the school and is bullied by the blonde-haired jock at school. His best friend, Toby, is the fat and lovable sidekick who is obviously
fodder for a bunch of fat jokes. And to add on top of this mountain of cliches, he has a crush on one of the girls at school but of course does not think he is good enough for her attentions. But he's a special snowflake so he finds this jewel and turns out that he is the savior of the trolls. Do you see where this is going? Much like the Kaijus and the Jaegers, the Trolls are extremely well-designed and varied. I really wanted to like this show because it seems like a show that I would like but 7 episodes in, I just couldn't get past the bland storytelling. I've heard it gets less cliche as it goes on with the side characters getting their own development separate from their association with Jim but I don't have enough patience to stick around.
Kimi No Na Wa (Your Name)
Directed by Makoto Shinkai | Based on the manga: Your Name by Makoto Shinkai
This is one of those unfortunate instances where I'm wondering if everyone is watching the same
movie as me. I won't deny that the animation and directing is beyond gorgeous. Much like Hayao Miyazaki's films, the animation is hyper realistic and detailed especially in its scenery. But the storyline falls so flat for me. I think my biggest problem with the story is the fact that they were trying to insert 3 whole storylines into 1 movie which was too much and each storyline suffered because of it. What I thought I was getting was a body swapping storyline and eventually a romance but then halfway through, that sort of changed and went into more fantastical explanations for why this was happening that felt contrived. And to be honest, I didn't really need to know why the body swapping was happening. And because of this deviance in plot, the characters never get past the stage of typical high school teens. In fact the things that happen when Mitsuha and Taki switch bodies are completely forgotten the next time they go back to their own bodies which makes me wonder how the fuck they could fall in love. And the parts where the relationship is being developed is filmed in a montage which is just annoying. This might just be me, however, I don't like "they are bound by fate" storylines but I still felt like these storylines were not integrated well enough and felt like they were totally separate storylines. And then that random plot point at the end??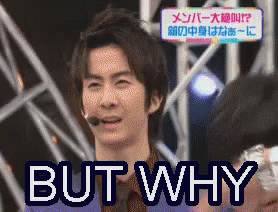 And at the end, I just didn't care about these characters and I was just bored. There are two reviews that explain my thoughts in a more well-written manner, however be warned they both contain spoilers.
Let me know if you've seen any of these and what you thought of them (especially Your Name). And if you have any animated recommendations for me, I'd love to know 🙂