I don't know what happened this month but I haven't read this much in one month since last year. I usually read around 5-7 things per month in 2016 but this month? 12. And all of them were pretty good. So let me share them with y'all.
So first off, I actually read a couple of poetry collections. It's shocking because I'm not a poetry person at all but I thought I'd give them another shot and it turned out pretty well.
Milk and Honey by Rupi Kaur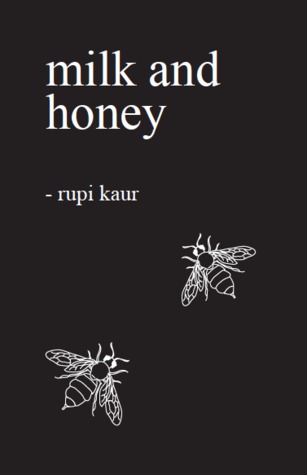 If you're looking to get into poetry, this is an amazing place to start. A lot of people, myself included, are discouraged from reading poetry because they don't "get it". But this poetry collection is easily understandable and covers a lot of accessible topics like breaking up a relationship, abusive relationships, and modern feminism. If you are a veteran of poetry or have read a couple of poetry collections, you can skip this one. Personally I found it a little lacking, the words lack precision and the themes weren't even reiterated in a fresh or original way. It, however, would work really well as spoken poetry. I read a couple of them aloud (don't judge me) and they just have a sense of power and anger in them that I don't think you would get as much of with just reading them.
---
The Colossus and other poems by Sylvia Plath
Sylvia path is kind of like my angsty spirit animal and a very
 interesting lady in
her own right. She went to Smith College and graduated with highest honors, married a fellow poet Ted Hughes but suffered from depression her entire life and tried several times to kill herself, first attempting to commit suicide in 1953 by overdosing on her mother's pills and then in 1962, by trying to crash her car off the road and finally succeeded in 1963 by sticking her head in a gas oven and dying by carbon monoxide poisoning. I think it's clear from her life why death pervades her poetry so much. She was utterly fascinated with it. Her words are so biting and anguished though not entirely understandable even if you tried. But I was less concerned with understanding her poetry than reveling in her mastery of language.
---
Poems by Emily Dickinson
Dickinson is one of my favorite poets of all time. She just uses these perfect analogies to describe emotion and it's just perfect. She, too, was as equally fascinating as Sylvia Plath. She was a recluse in her own house for much of the time she wrote her poetry not even coming out of her room to attend her father's funeral. But I think she's a brilliant poet and it's clear that she really liked nature..and also dashes.
---
Onto the play I read and did not like, the infamous Harry Potter and the Cursed Child. I did a full review and spoiler discussion here.
---
I finally, after two months, finished A History of Seven Killings by Marlon James, a contemporary masterpiece that won the Man Booker in 2015.
Marlon James's writing is amazing. It's mesmerizing in a way that music is mesmerizing, it just has a power and beat rhythm to it. It's really violent but despite the plethora of violence, each violent incident still feels like a fresh wound. It is epic in scope, covering the time periods from the 70's to the 90's centering around the killing of Bob Marley and covers a complex network of Jamaican politics, corruption, gang life, and drug operations. I'm so impressed with James's ability to use dialect. Because he doesn't just use it accurately, he uses it to its maximum potential, combining dialect in a sort of poetic frenzy as he seamlessly writes from one polarizing perspective to another from CIA agents to drug overlords to dead politicians. It's not an easy read, both stylistically and content wise. In fact, I was confused for a lot of the book but I think if you're really interested, I think it's worth it.
---
And on the subject of Man Booker authors, I read and reviewed Hanya Yanigih
ara's debut novel about a renowned scientist that is convicted of rape, The People in the Trees and I really enjoyed it. My full thoughts here
I balanced a lot of these more heavier works with some YA and NA reads even though they were pretty dark too woops.
I did mini book reviews of Vengeance Road by Erin Bowman, It Ends With Us by Colleen Hoover, and And I Darken by Kiersten White here.
---
I then read a little graphic short story called It's Going to Be Okay by The Oatmeal which actually won (was nominated?) an Esiner award. It's really sweet and took me less than 2 minutes to read and appreciate the art. You can read it here.
And more graphic stuff! I read two lovely, lovely graphic novels this month.
Paper Girls Vol. 1 by Brian K Vaughn
This was one of the more weirder graphic novels I've read. It's so weird. I suppose after watching Stranger Things that I needed something 80's inspired to read. This one also follows a group of kids but all of them are girls (which is refreshing) and there's a lot of supernatural stuff going on. There are time traveling machines, flying dinosaurs, and aliens. It's action-packed right from the get-go and even when it gets convoluted, it seems to always have a purpose. The ending made me super excited to continue on to the next volume.
---
Skim by Mariko and Jillian Tamaki
Skim is a slice of life graphic novel following a young girl as she goes through high school
. While this is happening, the novel follows her high school as they cope with a recent student's suicide. Much like This One Summer by the Tamaki's, this graphic novel is very quiet and subdued, nothing much happens and there's barely any resolution but that's precisely why I like it because it feels so true to real life. You don't experience significant moments in life and think "wow that was such an important part of my life". It just kind of passes by you shifting you ever so slightly. You get the sense after you read it that the main character still has a lot of adventure left ahead of her, that we only got a sneak peek in one part of her life but it still feels ever so poignant.
---
Far From the Madding Crowd by Thomas Hardy
And I even got to squeeze in a classic this month *drops mic*. This book really reminded me of why I love classics. The writing is gorgeous and I feel like a lot of things actually happen in this novel even if they were a little on the soap operay end. Hardy is not quite as witty as Jane Austen but the way he describes the Wessex countryside is nothing short of poetry. It is both oddly scientific at times (he describes body parts sometimes in their actual terms like larynx and coronary artery) but equally romantic and otherworldly. It's also odd in the sense that it's quite feminist but Hardy can't fully escape the sexist notions of his time. I can see why this is boring to some, there are quite a few descriptions of sheep raising but for me, Batsheba's adventures with her 3 lovers were just so fascinating that I didn't really care.
How was your August reading? Have you read any of these, if so, what did you think of them?