I tend to be super ranty in my wrap-ups and I sometimes just want to spew my thoughts out without having to revise and edit my writing. So I thought why not talk about it instead? So what I did was I recorded a minipodcast for 2 of the books where you can just hear my thoughts on the book (What We Saw & The Unexpected Everything). I'm actually kind of nervous about this because I absolutely hate listening to my own voice; it's so cringey. But anyways, let me know if you enjoy or hate them and if I should keep doing this format in the future.
On to the books I read in June!
To start off, I read 3 books set in Korea or by Korean authors this month which I reviewed in one mashup review post; it includes Please Look After Mom by Kyung-Sook Shin (meh), The Vegetarian (loved), Shelter (loved even more than The Vegetarian).
---
I read Brokeback Mountain by Annie Proulx which inspired the well-awarded movie of the same title starring Jake Gyllenhal and guy-I-don't-know-the-name-of-but-looks-like-Matt Damon. I absolutely adored her descriptions of the wild landscapes and it makes me want to go camping which btw, is a feat unto itself because the outdoors is definitely not my forte. It's a tragic short story involving two cowboys who fall in love but don't know how to be together. It spans years and Proulx does a great job making me feel that all this time has passed, with just the right mix of nostalgia and sadness. I highly recommend. You can read it here.
---
Going back to my YA roots, I read What We Saw by Aaron Hartzler
So sorry for the long awkward pauses LOL. omigosh I'm so awkward..Anyways, the article I was reading from can be read here.
---
And continuing on with my year of plays, I read Inherit the Wind by 
Jerome Lawrence and Robert E. Lee. I can see why this was required reading at my high school. It's very accessible but the questions asked can incite so much discussion. It's a fictionalied version of the 1925 Scopes trial where an unassuming teacher is put on trial for teaching evolution. Reading this play makes you want to slap 85% of the characters for their bullheaded ignorance. But then you realize that these people have always been taught that the Bible is the one and only truth and that some of these citizens are just following along with people that seem more experienced and knowledgeable like Harrison Brady but as soon as the case turns against him, the people are just as quick to change their minds.
It's not about whether or not the Bible is right, it's about letting people think for themselves. A quick but very compelling read.
---
I really need to read more cutesy contemporaries this month because I have sorely missed them. I started that train with The Unexpected Everything by Morgan Matson.
The Viscount Who Loved Me by Julia Quinn
I hate it when a potentially good book falls flat in the last 40 percent of the book. Like excuse me, you made me read the first half of you and then you let me down..
The premise of this book follows two sisters, one is very beautiful, perfect and polite in every way and one (Kate) is plain and very outspoken. Can you guess which one is the main character? *rolls eyes* Kate's sister is to marry this season and Kate is very adamant that Anthony Bridgerton (idk what he even does but he's rich ok what else do you need to know) not marry her sister because he is a rake and not husband material.
You know what, I enjoy a well-done cliche. And the beginning wasn't too bad. It had echoes of Pride and Prejudice and witty banter that I love so much in books. Too bad the rest of the book was mostly just a cliche. My biggest problem with this book is the fact that every other page the author just has to remind the reader that Kate is unremarkable and plain compared to her sister and the more she does that the more I'm suppose to believe she is a special snowflake when she's clearly not. I'm so incredibly tired of this trope and type of heroine that erotic historical romance seems to love. I IMPLORE YOU, IF YOU HAVE ANY HISTORICAL ROMANCE RECS THAT ARE GOOD PLEASE RECOMMEND THANKS. And if I give that rec a 4 stars or up, I will literally bow down to you.
---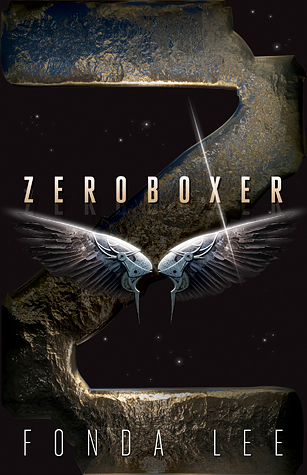 DNF
Zeroboxer by Fonda Lee-I adore the premise the book. It's a scifi novel about a guy who is a champion boxer and boxes in
zero gravity. How cool is that? And the action scenes really, really shine. I can picture every punch and every suspenseful movement. But that's pretty much all the praise I have for it. It suffers from an underdeveloped romance with a splash of not-like-other-girls trope and the flattest characters I've seen since the term flat character was defined. Also the worldbuilding was irritating. Like there was this one part where a fight is cancelled because one of the competitors took "endurance-enhancing nanos" which are steroids. Why not just say steroids if you're not going to even bother explaining how the nanos are different than steroids. Just cause you put in fancy, sciency substitutes for names does not mean you have a different scifi world. I'm probably making this a bigger deal that it actually is. Take my thoughts with a grain of salt because it has a lot of good ratings on Goodreads.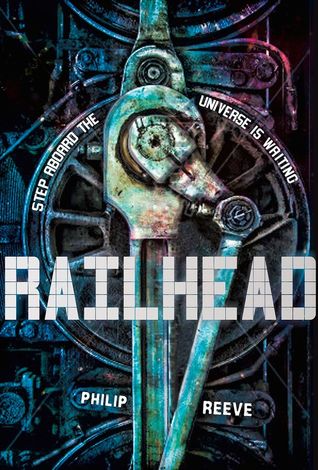 Railhead by Phillip Reeve– I'm gonna come out and say that this book has the most original and detailed and creative worldbuilding I've seen in a YA book in years. It's got a train that can take you to different planets, weird bug shopkeepers, houses built on sides of waterfalls and jungle-like bridges. And it's all cohesive!! Too bad the characters basically have no motivation for doing anything. And the dialogue itself needs its own editor.
How did your June reading month? Favorite read? Least favorite? And what are you planning on reading in July? =) On a scale of 1-10, how awkward were my podcasts LOL