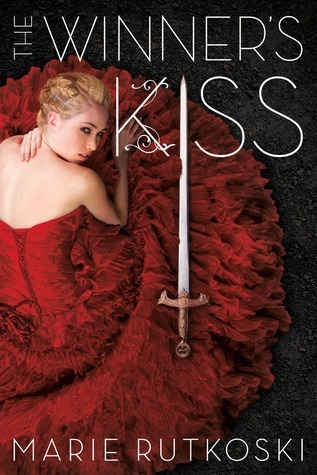 Author: Marie Rutkoski
Genre: Fantasy, YA
Pages: 496
Synopsis: Goodreads
ARC received from Netgalley in January 2016.
Release Date: March 29th, 2016
---
To say that I was scared of reading The Winner's Kiss would be kind of an understatement. I was legitimately scared. Like scared-of-heights scared. And I've been severely disappointed with most of the final installments of YA series in the past few years and none have seemed to really deliver. (See Winter, Calamity, In the Afterlight, Sorcerer's apprentice, End of Days, The Blood of Olympus, City of Heavenly Fire, Strange and Ever After etc. etc.). But, I should not have been scared because I can already tell this is going to be one of my favorite books of 2016, guaranteed. 
Let's wipe the dust off first. I have one negative qualm with this book. Rutkoski uses a particular, overused trope that affects a character for a good 30 percent of the book that I'm just tired of seeing in fiction. I feel like it's bit of a cop-out for dramatic tension and that's all I will say about that.
Ok, done. Moving on..
When the story begins Arin's army is slowly battling against the emperor's army in a tight war of fighting and strategic tactics. The tension from the past two books has been building up to this epic and climactic end. And it delivers. The first two books in the trilogy are not that heavy on the action but oh man, does this book step it up. Rutkoski flawlessly weaves a suspenseful and heart-pounding plot through alternating perspectives and even during battle scenes, she intricately weaves in these changing perspectives from Arin to Kestrel in a way that doesn't break the cohesion of the scene and adds just the right dramatic flair. And the best part is, it is neither convenient nor contrived. But all these battles does not mean this book focuses any less on the political strategy of war. The political strategy is still an immense part of the story crucial to several turning points of the story.
It's  hard to write an epic romance. The author has to convince me that two fictional characters are soulmates. Fictional characters, people. At worst, the execution ends up like Nicholas and Etta from  Bracken's Passenger, where I could not care less whether they ride off happily into the sunset or die in burning flames. And most literary couples, for me, fall into the "you two are cute" category and nothing more. I like them. I can see their love. Seeing is not the same as believing though. But with Arin and Kestrel, I truly believe it. So what is so different about Arin and Kestrel? For such a book with Rutkoski's metaphorical prose, it would have been easy for her to have Arin or Kestrel say some swoonworthy quotes to profess their love to each other and be done with it. But no, it's one of those rare books where I can watch the character's thoughts through their simple, everyday gestures that speak volumes about who they are from Kestrel sleeping in Arin's bed to Arin laughing at something Kestrel says. Their continuing romance and the depth of their character arcs just floored me in this book. I think about them everyday.
Hey, guess what this book is also funny? I love the continuing banter between Roshar and Arin and Roshar and Kestrel. He is just too damn funny. I loved the continuing exploration of Kestrel and her relationship with her father and her growing relationship with Sarsine.
But all these things I talk about don't really convey why this trilogy resonates so much with me. And to be honest, I don't know why either. Maybe it's the fact that this book has a fairytale timeless quality to it or that she manages to write a conclusion that satisfied me in a way that books of late have failed to do. Or maybe she writes such unconventional characters that have the kind of depth that many literary fiction writers wish they could write. And quite possibly a romance that is unlike any I've read about before. Whatever it is, it is truly a gem in YA fiction. And I know it will come knocking around in my head at random times during the day just to remind me of how it will never really leave my heart.