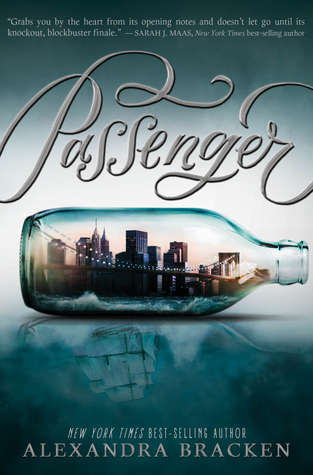 Title: Passenger
Author: Alexandra Bracken
Pages: 496
Genre: YA, Science Fiction, Historical Fiction
Passenger by Alexandra Bracken reminds me of a romantic comedy I watched a while back called The Girl Next Door. It's about a boy who falls in love with a girl who happens to be a prostitute. I liked the characters, I liked the plot, I liked the writing, I liked it enough to watch till the very end but after that, I just went about my daily life. I never think about it. It was fun and that's really all  I can say about it. Passenger is not a story about a prostitute, but like The Girl Next Door, it was just alright.
Let me just say that Alexandra Bracken does have a tendency to go into melodrama in her writing. I will not believe cheesy declarations of love if you have no foundation for that love and one conversation between our two main characters, Nicholas and Etta, is just not enough to make me believe that they are now soulmates.
"I forget myself with you," he said roughly. "I forget the rules. I forget every other living soul in this world. Do you understand?"
Can you explain to me why you feel this way?? Am I missing like 20 pages from my copy??
The story focuses mostly on Etta and Nicholas so the other side characters including the main baddie, Cyrus did not have enough of a presence for me to feel anything for them.
A lot of reviewers have criticized this book for being tedious because of the overly drawn out descriptions of the clothes and things but if I'm to be honest, the descriptions were too generic for me to really grasp it so I wanted more.
The women's fashions were somewhere between the nineteenth and twentieth centuries—brightly colored, finely tailored jackets with long skirts that
were bustled up in the back or decorated with layers of ruffles, exaggerating the natural curves of their bodies. Hair was hidden beneath bonnets and hats, all decorated with flowers and ribbons.
I did, however, really like the time travel aspects and how the time travelers were part of 4 ancient families; probably because she spends the most time developing it through a lot of the dialogue and infodumping. I thought it was really concise but intricate and detailed at the same time. I also really enjoyed the exploration of the injustices that Nicholas had to face because of the color of his skin no matter what era he was in. I also had a lot of fun learning about the places and eras they traveled to so I wanted them to stay longer in each place.
So I liked Passenger but I just needed a lot more "oomph".