Do you want to give the Christmas gift of reading but the person you're shopping for doesn't like to read? What do you do now? Well, I have a few suggestions and hopefully they won't let the book gather to dust on their coffee table. I'm not going to suggest books for people who already read because chances are you already know what kind of books they like or they have a specific book in mind that they want. So in the next few days, when you go Christmas gift shopping, why not take a look at these?
For the reluctant young readers:
Diary of a Wimpy Kid*/The Invention of Hugo Cabret/Crossover by Kwame Alexander/The Familiars by Jay Epstein
I've read the whole series of Diary of a Wimpy Kid except the last one. No regrets. Amazing sense of sarcastic and dumb humor that kids are sure to love. The pictures are a hilarious bonus too.
The rest of the book also have stunning pictures to go along with the text. Selznick has also written a new book called Marvels but I haven't read it yet.
For the movie buff:
Marvel encyclopedia/Lord of the Rings movie book/Star Wars comics
The Marvels one is exactly as you'd expect it to be, just descriptions of all the superheroes with gorgeous illustrations. The Hobbit one is like the making of the movie. This one comes with those cool flap covers. I think any Star Wars fan would love to read the comics so get them the latest one. Get them a BB8 while you're at it or maybe just a BB8 cup
For The Visual Learner:
The Art of Ratatouille (They also have ones for most of the Disney movies)/Humans of New York
*The Art of "" Books come with all the Disney movies so you can get the Art of Tangled or Big Hero 6 or whichever one. I picked these because the full page photos are amazing but the text makes the experience so much more informative.
For the baker:
Nerdy Nummies cookbook by Rosanna Pansino
Extra bonus if your recipient is a geek like me because all the recipes are "geek-based" like textbook smores etc.
For the Youtube watcher:
A lot of people watch Youtube personalities and a lot of them write like they speak so these books are quick to read and just plain entertaining.
The Amazing Book is not on Fire by Dan and Phil/Binge by Tyler Oakley/A Work in Progress by Connor Franta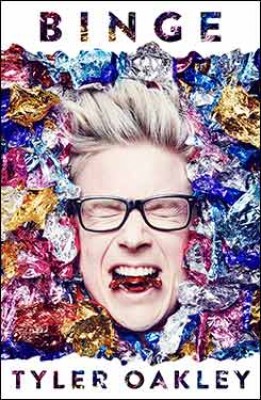 You're Never Weird on the Internet by Felicia Day/Grace's Guide: The Art of Pretending to Be a Grownup by Grace Helbig
For the TV/pop culture lover:
A Year of Yes by Shonda Rhimes/Modern Romance by Aziz Ansari/Yes, Please by Amy Poehler
Game Lover:
Ready Player One by Ernest CLine, The Legend of Zeld/Minecraft: The Ultimate Survival Guide
*While you're at it, maybe get them a League giftcard? (if they play League obviously)
For the Beauty Guru:
*I recommend the Michelle Phan one for high school aged people because any older and the advice will seem obvious.
*The Fluer De Force Glam Guide is also a book about tips on beauty and style.
Nonfiction lover:
A lot of people in my life who don't read that often tend to lean toward nonfiction to read. I picked these because these are accessible to any reader but are also extremely fascinating.
Quiet by Susan Cain/Moonwalking with Einstein/What if? by Randall Munroe
*Quiet is one of my favorite nonfiction books of all time. It explores the power of introverts.
That was longer than I expected but I hope you found something that you might like to give 🙂
And just a reminder that "My Week in Favorites" poll is still open if you'd still like to comment. I closed it on the 14th but I extended it to today.
–