Yes, I know it's November 1st but I still wanted to do this Halloween type post. I hope everyone had a fun Halloween. I sincerely hope my sister saves me some Almond Joy/Mounds because Almond Joys are so, so good. Favorite candy for life. So my roommate went to a haunted house (17th floor) the day before Halloween and it's one of those hard core houses where the staff gets to touch you and throw stuff at you. The description goes like this:
The 17th Floor tells the story of a troubled girl named Paula as she goes off to study medicine at Gluttire University (with Gluttire from the Latin word for swallow). The Luthers chose a university for the rich scenes it affords, from a library to a medical classroom to a locker room.

Visitors will spend around 32 minutes making their way through 17 experience rooms. Unlike mazes many people are familiar with from places like Knott's Scary Farm, however, guests don't move through those rooms at their own pace. Instead, small groups are locked in each room during a carefully orchestrated show.

The content is heavy, as Paula battles such demons as drug abuse, eating disorders, bullying and suicide. And it'll tap all five senses, with foul scents, extreme temperatures, detailed visuals, startling sounds and even a chance for a taste test or two.
My roommate told me she got sprayed water on a lot and she got hit by a dead fish LOL, so it got me thinking what if there was a bookish haunted house based on our favorite fandoms?? If I were to design one..
For Harry Potter:
There should be a room where you are on the Hogwarts grounds in the 3rd year and there are dementors everywhere and they pop randomly at you and blow air at you to simulate sucking your soul. *shudders*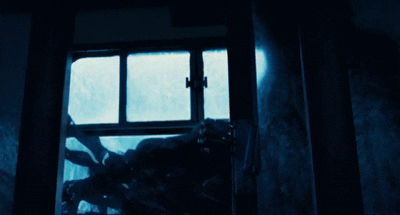 In another room, there could be a reenactment of the end of the 4th book where Voldemort rises again and you walk in and there are Death Eaters surrounding you and Cedric is lying there dead…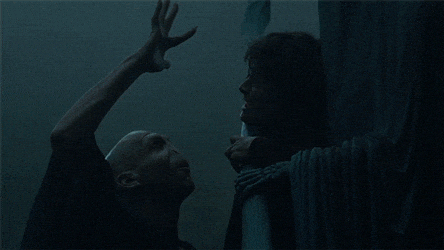 For The Maze Runner:
This one's easy because the whole book takes place in a maze so I would put the audience in a maze at night and have grievers chase you and there can be walls closing down on you.
For Percy Jackson:
There's nothing really that spooky about Percy Jackson but it would be so cool if the labyrinth from the fourth book was created and have it  be really dark and the monsters that Percy fights in the labyrinth be the monsters. Adding a scary version of Kronos would be super cool too.
For Mrs. Peregrine's Home For Peculiar Children:
This would be absolutely perfect and easy. Just recreate those creepy pictures and stick them in a creepy house. That would be pretty scary if I do say so myself.
The Shining by Stephen King
I'm cheating because I haven't read this book yet but I think it's perfect because it takes place in a hotel and it has so much potential for scary lighting and jump scares. I'm thinking kind of like haunted mansion at Disneyland but a hotel version.
Divergent
Ok, but what about a horror version of the divergent simulations where all your favorite characters are dead in a gruesome way?? Ok, never mind, that would just be sad…
What fandoms/books would you like to see a haunted house based on?