Happy Sunday everyone! I'm here to review 3 YA historical fiction novels I've read recently. I don't why I feel like ordering things lately but I did it for these reviews. So, from lowest to highest rating…
 Flygirl
Author: Sherri L. Smith
Pages: 288
Reading Flygirl is kind of like anticipating an intense movie so you watch the trailer but it turns out the trailer spoiled all the big moments so then when you actually watch the movie, all the impact has been sucked out of the experience. Not to say that I was spoiled for this book, it was more like what you see is what you get. It's a story set in the 1940's before and during WWII about a mixed black girl who dreams of being a pilot.
I really liked our main character's, voice. I also really liked the family aspects of this novel, she has a deep relationship with her mom, her grandfather and her brother and I thought the relationships were balanced in the story really well. This book shows Smith did a lot of research for this novel not only in the setting but also the issues of sexism that plagued these girls. It is especially frustrating when these pilots proved their worth over and over again only to fly to deliver supplies to the men or never even get the chance to fly and help out their fellow soldiers. It's a quick read but also an important story that often gets ignored. It did everything I'd expect but I think if the author had been a little more daring with the plot lines and side characters, it would have been more nuanced but it's good story for what it was.
---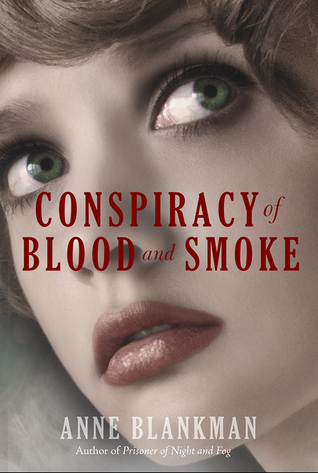 Conspiracy of Blood and Smoke
Author: Anne Blankman
Pages: 406
I guess this is turning into a duology review (no spoilers for either book). The Prisoner of Night and Fog (the first book) and The Conspiracy of Blood and Smoke is a duology set in 1930's Nazi Germany. It follows our main character Gretchen and when we first meet her, she's living with her mother and older brother. Her father had died when she was young. And Hitler is her uncle. (Yeah..) As the story progresses, she becomes friends with a Jewish reporter named Daniel. Now Daniel says Gretchen's father didn't die the way Hitler told her he did so Gretchen and Daniel try to find the true cause of her father's death. This first book was such a fun, fast-paced thriller. I appreciated the author's dedication to portraying Hitler's psyche and the political atmosphere of Nazi Germany. I felt really immersed in the time period feeling that fear that people faced and before long, I was also immersed in this murder mystery that had so many twists and turns keeping me on the edge of my seat. The characters were developed a little too quickly but I could overlook it. There's also a touch of romance which I always like.
The sequel takes place about a year after the events of the first book but it still follows another murder mystery but the stakes are elevated as we get to see the tensions and Hitler's rise to power grow at an alarming rate. New restrictions are being placed on Jews. There are political riots, burnings, and violence on the streets. Even though I find the plot to a little too linear, it was intense and as equally gripping as the first book. The ending also wraps rather nicely as well.
---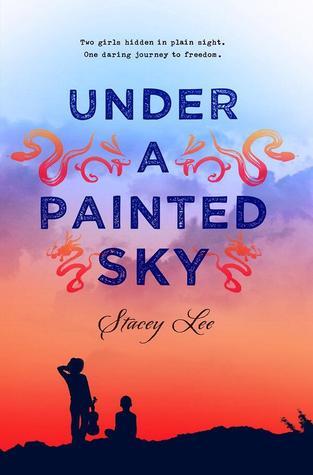 Under a Painted Sky
Author: Stacey Lee
Pages: 384
I hate it when authors tell me that two people are best friends and I'm just suppose to believe it. Sure, they can tell me that oh, they talked so much about stuff all night long or they've been friends since they were little or stuff like that. But I'm still not convinced in their BFF status until they show it to me. And that's exactly what Stacey Lee did. Set in the Wild West 1849, UaPS follows our two main characters, Samantha and Annamae, as they travel across the country with three cowboys trying to find their respective father's friend and brother. Dressed as boys, they first bond over a mutual need to survive a time and place where being young POC women was basically a death wish. I liked how the friendship itself developed gradually over time but then as they got to know each other, they came to respect each other's capabilities and found solace and humor with each other despite their different cultures and their original suspicions. I honestly haven't read about such a beautiful friendship this entire year. This book borders on the middle grade level because it's a little more clean cut in terms of the plot but nevertheless the plot is nicely paced and action packed, the descriptions lush, the romance sweet. I highly recommend this one.
Let me know if you've read any of these or if they're on your TBR. If you have any recommendations for historical fiction, I would love to know about them! I really like historical fiction and I feel like I don't read enough of it.