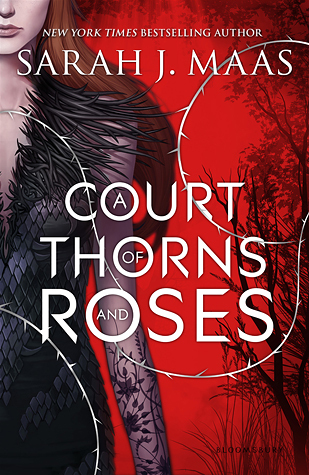 Author: Sarah J. Maas
Genre: New Adult Fantasy Romance
Summary: Goodreads
Rating: ★★★★☆ (3.9)
You might be wondering why I didn't just give this book a 4 stars. Well, my friend, it is because I couldn't quite ignore the flaws in this book enough for it to warrant a 4 stars. Before anyone reads this book, they need to know that this is NOT a romance fantasy. This is more of a fantasy romance, where the plot revolves around the romance instead of the fantasy. The fantasy setting is really an extension of the romance, like the mating ritual etc. Prythian is sensual, magical, and mysterious just like their relationship.
Now the good thing about having an experienced fantasy writer write a romance is that the worldbuilding is paid just as much attention as the romance. I loved Maas's descriptions of Prythian, they're detailed and just plain beautiful. I think it's executed way better than her Throne of Glass series. However, there were so many info-dumps in this book that it felt like a Wikipedia article throughout several parts of the book that detracted from the full immersion into this world. But the comparisons of the fairy tale aspects, between Beauty and the Beast were really interesting to me. She does a good job of reversing some parts of the story.
I really liked Feyre's journey to discover she is. I love that with the focus so much on her relationship with the High Fae and with her family, there was still a lot of room for her to develop as an individual. However she was not the most original character out there. Nor was the High Fae Tamlin, Lucien, Rhysand, and Amarantha. They were extremely typical characters and this story would have soared had they not been so stereotypical and their actions so predictable. It's what makes Tamlin's and Feyre's relationship not as compelling as I would have liked. Their romance was nice but nothing that stands out to me.
Despite its flaws, this book was super entertaining and the ultimate form of escapist fantasy. If you're looking for a fairy tale retelling with a stubborn Katniss-like heroine or hot Fae, this book is for you.